Ten Great Television Shows
September 12th, 2018 by Proprietor
When I made a list of shows I enjoy, it included reality and non-reality television shows. The list was extensive, so I decided to divide the list into non-reality, i.e. standard television shows, and reality shows, then whittle them down to ten or so.
In choosing the ten television shows, I decided that was a decent cut off point, because the remaining shows below ten were not meeting the criteria I had decided upon in picking shows I like.
First in criteria was watchability. Can I sit down and watch one episode straight through without losing interest and could I watch at least two episodes straight through. Also, if I am clicking through channels, and the show appears on one of the off brand, syndicated television channels, will I stop and watch it?
Then there was the viewing aspect of the watchability concept. How often have I viewed the show? There are shows that I will continue to view, regardless of media. If it is on a syndication channel, I will sit down and view it. When I have "nothing else" to watch, will I bust out the DVD or Blu-Ray collection of the show and view it?
The shows are in a list of one to ten, and to some extent, do not connate rank of any form. This is just a personal list of shows that I enjoy watching, and watch whenever they are on television or when I have nothing to watch. I feel these shows are great, and if you have heard of them, but never seen them, watch them, then decide for yourself.
1. Brady Bunch – If you are a regular reader, this blog features dozens of Brady Bunch themed posts. Go to the Category selection menu, and there is a separate category, Brady Bunch. It is without any argument my favorite show. I have the Shag Rug Ultimate DVD collection, I am happy to view this show on Hulu, since it is available, and if it is on a syndication channel, I will sit and watch the show. The show is set somewhat in it's time of the late 1960s and early 1970s, but it has a timeless quality due to basic plots. Even the political dynamics that are in the show are still understandable today. Mike Brady married Carol Tyler-Martin, both had three children, and they became a family. Most of the stories focussed on the children. Some people might be turned off by the simplicity of the plots and sappiness of the stories, but that is the beauty of the show, and what has endeared it into television history. The show is watched in dozens of languages across the globe.
2. Freaks And Geeks – A show produced in 1999 that focuses on teenage life in the 1980s. It was a show that I did not watch when it originally came out, but watched when it was on a streaming service I no longer subscribe to. I watched the show multiple times, when the streaming service dumped the show, I picked up a DVD copy at Half Price Books. The show resonates with me, because I am a child of the 1980s. I was in Junior High, then High School in the late 1980s. I was one of the geeks, and I knew plenty of freaks. Both groups were outcasts from what would be the traditional high school clicks. Sadly, this show lasted only one season.
3. The Wonder Years – This show came out in the late 1980s, followed the life of Kevin Arnold, who was entering Junior High, growing up in suburban America during the Vietnam War era. It was set in suburban Los Angels, though it did not specify which city it was set in or it was set in a fictitious city. Kevin was coming of age, he was maturing into a man. His grade school friend, eventual crush, and girlfriend, Winnie Cooper, was a girl every boy Kevin's age experienced. Any man or young man watching the show could easily identify with the relationship. The politics were a bit dated, the music was great, and it was eventually released on DVD or Blu-Ray, the main problem, the music rights. It was on a streaming service I used to have, if it is running on syndication, I will sit down and watch the show.
4. The Sopranos – Originally on HBO, and I never subscribed to premium cable. It was not available on streaming either, until HBO decided to set up their own service. I had seen a few episodes while at friend's houses, and it was good. There was a cigar brand based on the show, at the time, I was a cigar smoker, and yes, the cigars were incredible. I picked up the DVD sets to the show, and watch them multiple times. The show follows the trivials of the fictional Jersey mob boss, Tony Soprano. It won many Emmys, and even though it has been off the air for over a decade, it is still a great show to watch. Very powerful writing, and strong characterization.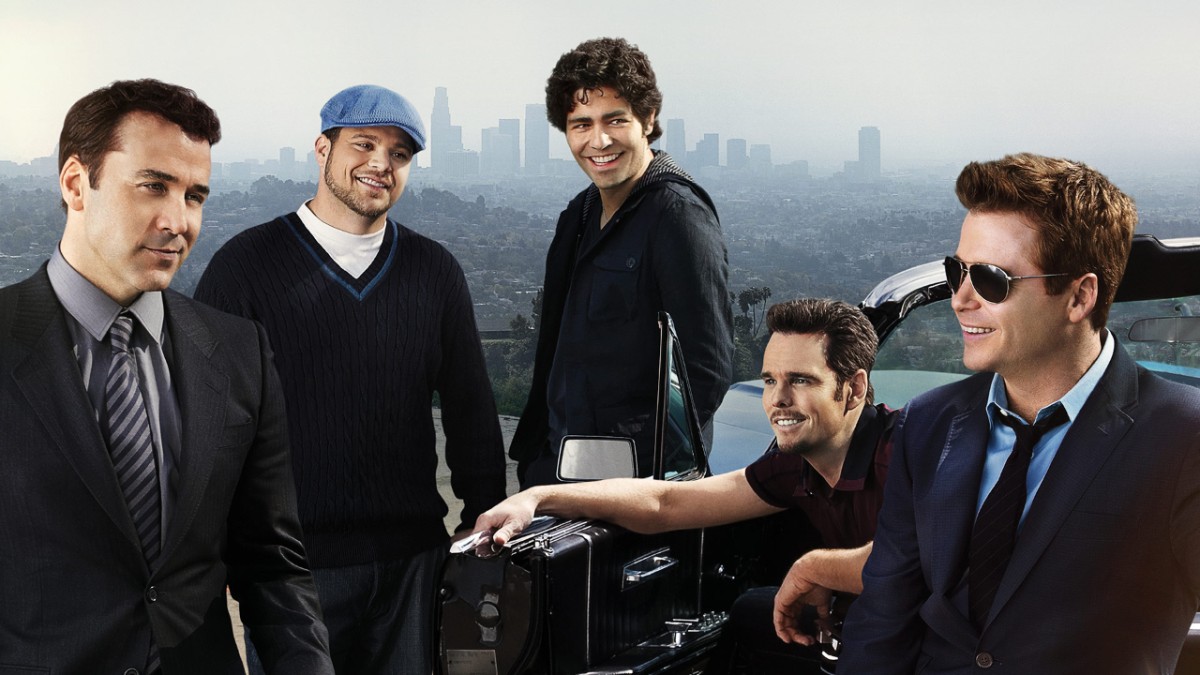 5. Entourage – Another HBO show that I did not watch immediately, saw a few episodes, and eventually picked up the DVD sets, then the complete Blu-Ray set. The show follows Vincent Chase's career as a movie star, from lows to highs that he experiences his friends, whom are just exaggerated aspects of Vincent's own personality. It is Bro-Mance television of sorts. The show is worth watching, but after multiple viewings, loses it's luster somewhat. The movie, by the same name, spun off, and was decent. If you liked the show, the movie is a must see.
6. Venture Bros – A cartoon that caught my interest on Hulu, I began watching it because I needed something to watch on my weekend mornings. I became hooked on the parody of 1960s and 1970s cartoons, with it't whole spoofing modern culture of sorts. The characters at first were annoying, somewhat one dimensional, but as the show grew into itself, became even more interesting to watch.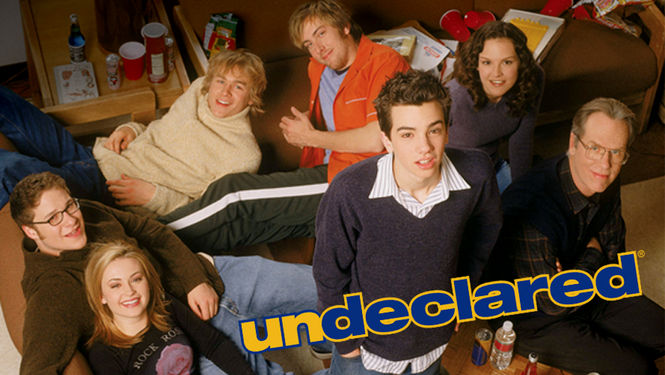 7. Undeclared – This show was produced by the same people as Freaks & Geeks, it had some of the former actors playing different parts. Both shows could be watched together or one after the other. One of the show's actors, Charlie Hunnam, would star in Sons Of Anarchy. Undeclared follows the life of Steve Karp as he navigates college. He is placed in a dorm with total strangers, whom bond with him, and he meets, Lizzy, a girl whom would become his girlfriend, though she has issue. The show was funny and sweet, but not strong enough to merit a second season. The first season came out in sporadic bits. Eventually being canceled entirely. I watched the show when it originally came out, fell in love with it, but had to wait for a few years until the complete DVD set came out. It was available on a streaming service, and I did watch it, but when I get the urge to see the show, I watch the DVD set.
8. Game of Thrones – Another HBO show that I could not watch, but watched on DVD sets. The show at first turned me off, but became more intriguing as I watched. Then I became hooked. Yes, lots of bare breasts, and naked women do help to retain my interest. If you made a drinking game involving taking a shot every time a bare breasted woman appeared, you would be drunk by the end of the show. In spite of the nudity, there is an incredible plot, lots of great special effects, and it is fun to watch if you enjoy great fantasy.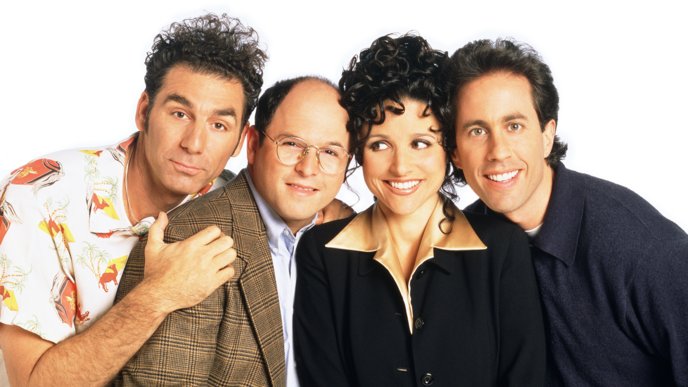 9. Seinfeld – A show about nothing that became the most popular show on television. Due to the comedic nature, and the brilliance of writing, it is somewhat timeless. I wrote a more extensive blog about the show a while back. If you enjoy a quirky comedy, this show is worth watching. It is on streaming services, and in syndication regularly.
10. M*A*S*H – An anti-war comedy that used the Korean War as a parable for the Vietnam War. It was very funny at first, then took itself too seriously in later seasons. It ran for twice as long as the war it was about, and the final episode was one of the most highly watched television shows of all time. As a child it was one of my favorite shows to watch in syndication, and I was old enough to watch the final seasons on television as they aired. As I grew up, I sort of lost my love for the show, though I will watch it if it is on, and there is nothing to watch.
These are the ten great television shows I think people should give some viewing time to. Everything on the list is subject to your own opinion.
Thanks for stopping by.
---