Travel On The Strip
December 24th, 2017 by Proprietor
The primary form of transportation on the Las Vegas Strip is your own two feet. I have always told friends whom are thinking of going to Las Vegas the most critical piece of advice I can give them is to where comfortable walking shoes.
It is hard to explain to people the size of the resorts in Las Vegas. The scale as one friend stated when he first went to Las Vegas is mega-scale. MGM Grand is a 1/4 mile long from the strip entrance to the exit to the pool. Having stayed in MGM Grand twice, it is an extensive walk. The second time I stayed, my room was near the farthest east end of the hotel tower, and it took me fifteen minutes to walk from my room to the strip. That includes elevator wait and travel time.
The length of the strip from Mandalay Bay to Stratosphere is over 4 miles. Some guide books stop at Sahara Avenue, but most people accept the Stratosphere as the end, since it is the last mega resort before downtown.
During the first decade and half of the time I started going to Las Vegas on a regular basis, Cabs or Walking were the only way to get around. Cabs offered door to door service, and were fairly quick. Unfortunately traffic on the strip and costs have made using cabs regularly on the expensive side. I still use a cab on occasion if I am traveling to nearby off strip resorts, like Hard Rock or if I travel Downtown.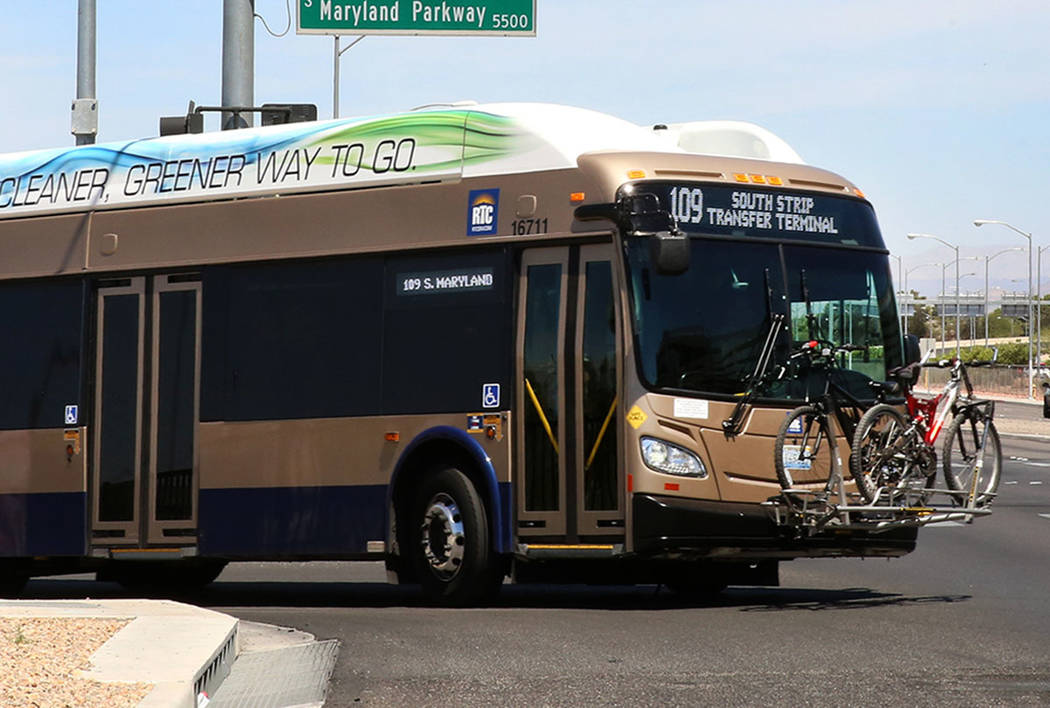 Buses are another way to get around. Las Vegas does have a very good bus set up. If you pay attention to city bus routes, and even specific dedicated routes, the bus fees are not horrible, except you have to ride on crowded city buses. Sometimes standing room only.
Ride sharing is the new popular way to go. Uber and Lyft have a presence within Las Vegas, and resorts are bowing to that preference and having specific pick up areas for drivers to go to. The areas are near the shuttle bus locations.
Shuttle buses are another inexpensive way to go. These are good to use from the airport to the resort of choice. Not as quick as a cab, but if you are not in a rush, you can save a good deal of money. Plus the cab lines at the airport can be extensive. Do you spend a half hour riding a shuttle bus or a half hour waiting in a line? Plus the shuttle bus system from airport to hotel is very well organized, and for the cost a great value. For a cab ride to the airport, even from a close by strip hotel will cost as much as a round trip shuttle bus ride. Then there are the casino shuttles.
Off strip casinos may actually offer free shuttle transportation from their property to the airport, and from the airport to their property. There is some law that prevents on strip properties from offering shuttle service. Some casinos also offer shuttle bus service to sister properties off the strip, and some off strip casinos offer shuttle rides to the Fashion Show Mall on the strip. These shuttles are intended for guests of the casino, but open to anyone. The shuttles are no cost, but a dollar tip to the driver is a very cheap way to get off strip. Bally's offers a regular shuttle to Rio Suites. Rio Suites is in walking distance from Palms and Gold Coast. Walking distance being perceptual, but it is not horrible compared to other distances you may have to walk. Gold Coast offers a shuttle to Orleans, and that shuttle does go to the strip. Harrahs offers a shuttle to Rio Suites as well, and there are shuttles to Sam's Town. Sam's Town has shuttles to Downtown. M and Red Rock, two very nice off strip resorts offer shuttles to and from Fashion Show Mall. If you work the shuttles right, for a few dollars you can go all over Las Vegas.
Then there are the monorails. The free monorail that travelled from MGM Grand to Bally's was extended to go to SLS (formerly Sahara), and now costs money, but it is worth purchasing a pass if you want to travel up and down the strip, you just have to be smart about distance. Sometimes it is better to walk than ride the monorail. If you want to go from the front of Bally's to Mirage, you are better off walking down the street. The distance from the strip to the monorail station at Bally's and from the monorail station at Harrah's to the strip is the same amount as just walking from Bally's to the Mirage. The monorail from Bellagio to Monte Carlo is free, again you have to be smart about distance. If you ride the monorail to Crystals, get off, walk around Crystals, then decide to go to Aria, you should just walk to Aria. By the time you walk back to the Crystals monorail ride it to the end, and walk down to Aria, you could walk to Aria. If you want to go from Aria to Monte Carlo, walk up to the monorail station, and down to Monte Carlo. There is a monorail is the one from Excalibur to Mandalay Bay. In this case, it is wise to ride the monorail to Mandalay Bay, then take the one from Mandalay Bay to Luxor. It does save some walking, but there is the time factor. The monorails do not run at times, and usually the one that goes from Mandalay Bay to Luxor is shut down. Also, the monorail from Excalibur to Mandalay Bay shuts down early, if you are at Excalibur at 10:30 PM, and want to go to Mandalay Bay, you will have to walk. The final monorail runs from Treasure Island to Mirage. It was originally built as a conveyance for customers, and it tends to be unreliable. The last time I was in Las Vegas it was shut down. When it was running, it saves you a lot of walking on the strip from Treasure Island to Mirage.
Renting a car is another option some people think about doing. If you are planning extensive off strip journeys, then renting a car makes sense. The last time I rented a car, I travelled to various off strip properties around Las Vegas, went to Red Rock Canyon, and went out to Henderson. Otherwise if you are thinking of just being able to go from casino to casino on the strip, forget renting. Traffic on the strip is congested most of the day, and into the night. Also casino/resorts are now charging valet fees, and you have to pay for the parking structure.
There are plenty of ways to get around Las Vegas. Walking is the primary way. If you are going for the first time, it is nice to walk around the strip and enjoy the views of the buildings, signs and people. The other options are for various long distance travel or just door to door convenience. Personally, I use a combination of monorail, walking and shuttle buses to get to where I want.
Thanks for stopping by.
---