Age Brady Children
October 17th, 2018 by Proprietor
In a previous post, I posited that Mike and Carol could have had a child even near the end of the final season, because of their ages. I used the ages of the two oldest children Greg and Marcia to deduce the age of Mike and Carol. The producers chose the ages of the children for various plot reasons. Greg was 14 at the start of the show, Marcia was 12, Peter was 11, Jan was 10, Bobby was 8, and Cindy was 6. These ages reflected some of their behaviors toward each other, and the grouping of three in the tween area allowed for growth. Unfortunately with all child actors, especially in the case of Bobby and Cindy, cuteness wears off. Look at the final season where Bobby had braces, and Cindy was no longer a cute little girl with a lisp and thus could not pull off cute little girl things. Carol Brady being pregnant would have been more conductive to the show being extended for another season than mocking pregnancy to introduce Cousin Oliver.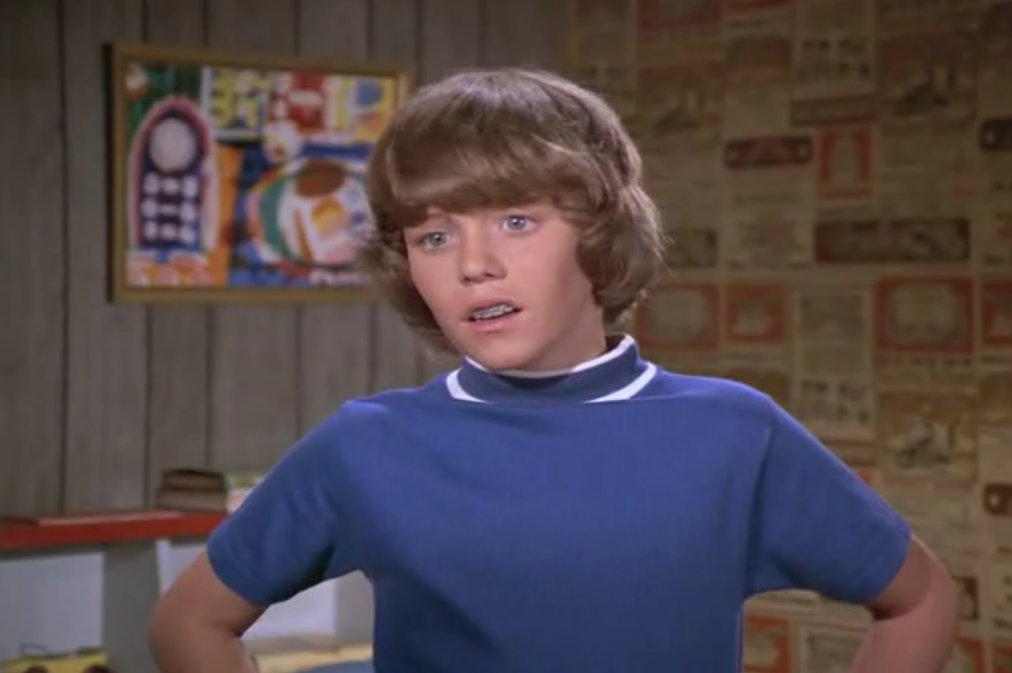 Greg being the oldest would have the most ground breaking moments. Greg was looking to buy a car, and got a job as an office boy in the architectural firm with a homicidal boss. The following year Greg entered high school and because he was a man wanted his own space. In the Episode "Our Son, The Man", Greg persuaded Mike into giving up his den in order for it to be converted to a bedroom. Marcia being two years behind Greg would fuel her own form of competition, since she was no longer the oldest in the family. Her drive to be queen bee of the Brady girls got her into various forms of trouble. Marcia wanted to be a scout to prove she was as good as the boys, thus forcing retaliation, because Greg was too old, Peter was forced by his older brother into becoming a Sunflower Girl. Peter was the middle child between Greg, now Marcia, and then Jan, Bobby and Cindy. Jan seemed to not identify too much with Greg, but felt like she was second to Marcia all the time. Bobby being the youngest boy always sought attention from Greg, pestered Peter constantly, but at least could be a hero to Cindy. Cindy was always wanting to be older than she was.
Through out the entire Brady Bunch run, the children grew up. Greg always maintaining his top dog status, though he was at times taken down a peg or two by his younger siblings. It seemed Marcia was always his foil, except Jan seemed to be able to compete on an even field once Jan began developing lady bumps. Greg was graduating high school and heading to college in the last episode of the show. Which means Jan began working at Haskell's Ice Cream Parlor at 14, maybe 15. Which makes the Brady children exceptionally ambitious when it comes to work. Also, you should feel dirty if you are lusting after Marcia and Jan in their bikinis during the Hawaii Episode, Marcia was 15 and Jan 13.
Schooling was a big deal with the Brady Bunch. Westdale High School, Fillmore Junior High, and Clinton Elementary School were the schools attended by the children. Ultimately they all went to different colleges, and entered careers. Greg became a OB/GYN, Marcia was a fashion designer until she married because she could not stand the thought of Jan beating her to the alter, then Marcia became an alcoholic housewife. Jan became an architect in Boston, married to a professor. Peter went into the Air Force, then became a stock broker. Bobby went to college, graduated, was going for a masters in business, but dropped out to become a race car driver, then ended up in a wheelchair. Cindy managed to graduate college, and worked for a radio station.
Ultimately, the Brady children fell into a sort of age dynamic which played out in their adult lives. Greg being the oldest, was the most successful. Even though Marcia was the oldest girl, she was second child, and was not as successful. Peter played the second boy to a tee, not really expected to work out, but just getting by. Jan was more driven, and probably felt relieved to be the fourth child. Bobby and Cindy were both the children whom did not grow up in some way.
Of course, growing up and sharing a bathroom with no toilet could have had a major affect on certain aspects of life.
Thanks for stopping by.
---
Another You Tube Unlocking Video
October 14th, 2018 by Proprietor
This time of the robot bounty hunter, IG-88.
Thanks for stopping by.
---
Ocean's Eight
October 9th, 2018 by Proprietor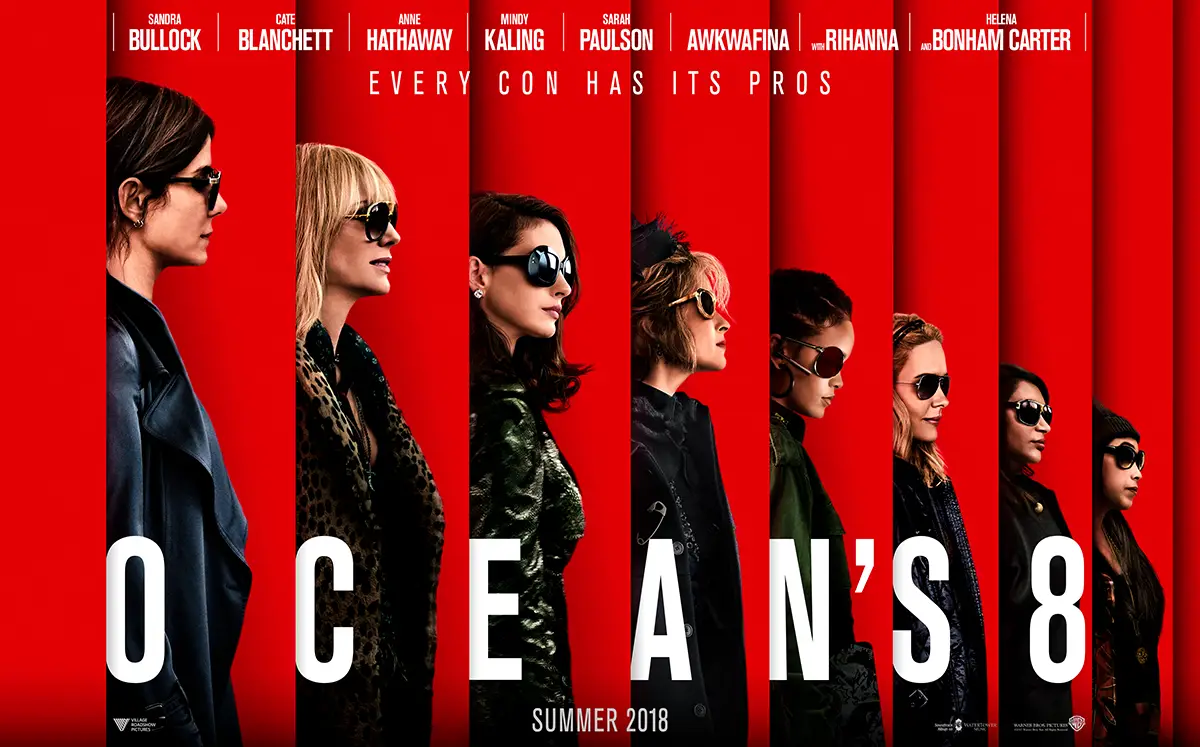 Ocean's Eight is a sort of spin off, sequel to the George Clooney, Ocean's movies. Ocean's Eleven being one of my favorite movies. Sandra Bullock stars as Debbie Ocean, the younger sister of Danny Ocean. The movie starts similarly to Ocean's Eleven, Debbie is answering questions of the parole board, and is released from prison. Debbie instantly begins scamming and running cons to get herself clothing, make-up, and a hotel room. Debbie then contacts her old friend, Lou, played by Kate Blanchett.
Debbie goes to visit her ex-boyfriend, played by Richard Armitage, and threatens him. He has some history with Debbie, and how she ended up in prison, which is revealed in the movie. Debbie also goes to visit the grave of her brother. At Danny's grave, she is met by Reuben, played by Elliott Gould. Reuben warns Debbie about her con that she plans to pull, and states her brother did not want her returning to prison. Debbie is picked up by Lou, and the begin planning their con. Debbie wants to steal a very valuable piece of jewelry.
Lou and Deb begin rounding up their crew, a who's who of talented and pretty actresses. There are some obstacles to overcome, and ultimately it is revealed that the whole focus of the con was not the actual con itself. The first con was a distraction so there was time to pull off the actual con. On top of that, Debbie had built in a third con to get revenge on her ex-boyfriend.
Ocean's Eight follows along the same pattern as the other Ocean's movies. It is a basic heist movie, with plot twists, and surprise revelations. Overall, it was much better than the Ocean's Twelve movie, maybe just as good as Ocean's Thirteen. It would not be surprising if a continuation of the Ocean's franchise were to happen, and an Ocean's Nine and Ten were made.
If you are looking for a decent movie, that is entertaining, and tied to a familiar franchise, Ocean's Eight is a good watch.
Thanks for stopping by.
---
Updated Some Pages
October 5th, 2018 by Proprietor
I updated several pages throughout the site to keep up to date with the current storyline. The Multiverse Page, Character Page, and Outline Page were updated.
Thanks for stopping by.
---
Eating Las Vegas
October 3rd, 2018 by Proprietor
My most recent trip to Las Vegas was great. Granted, I did not win anything gambling, but the Cosmopolitan was not only an awesome place to stay, it had lots of great restaurants to eat in.
Being a foodie of sorts, I am always looking for somewhere different to eat or new dining experiences. I am not someone who loves to eat, but I want to enjoy what I am eating. When I was searching for a place to stay in Las Vegas, I could go back to my usual top 10, and know that I would enjoy my stay, but there was no really new experiences. The other hotel/casino/resorts had a selection of restaurants, and there were food courts in them or in hotels nearby where I could grab a cheap breakfast of sorts, but I was looking for something more central. The Bellagio does have a great sushi place, a wonderful high end Chinese restaurant, and an awesome buffet, yet the room prices seemed high to me at the time I was planning on traveling. After some research, I decided on the Cosmopolitan.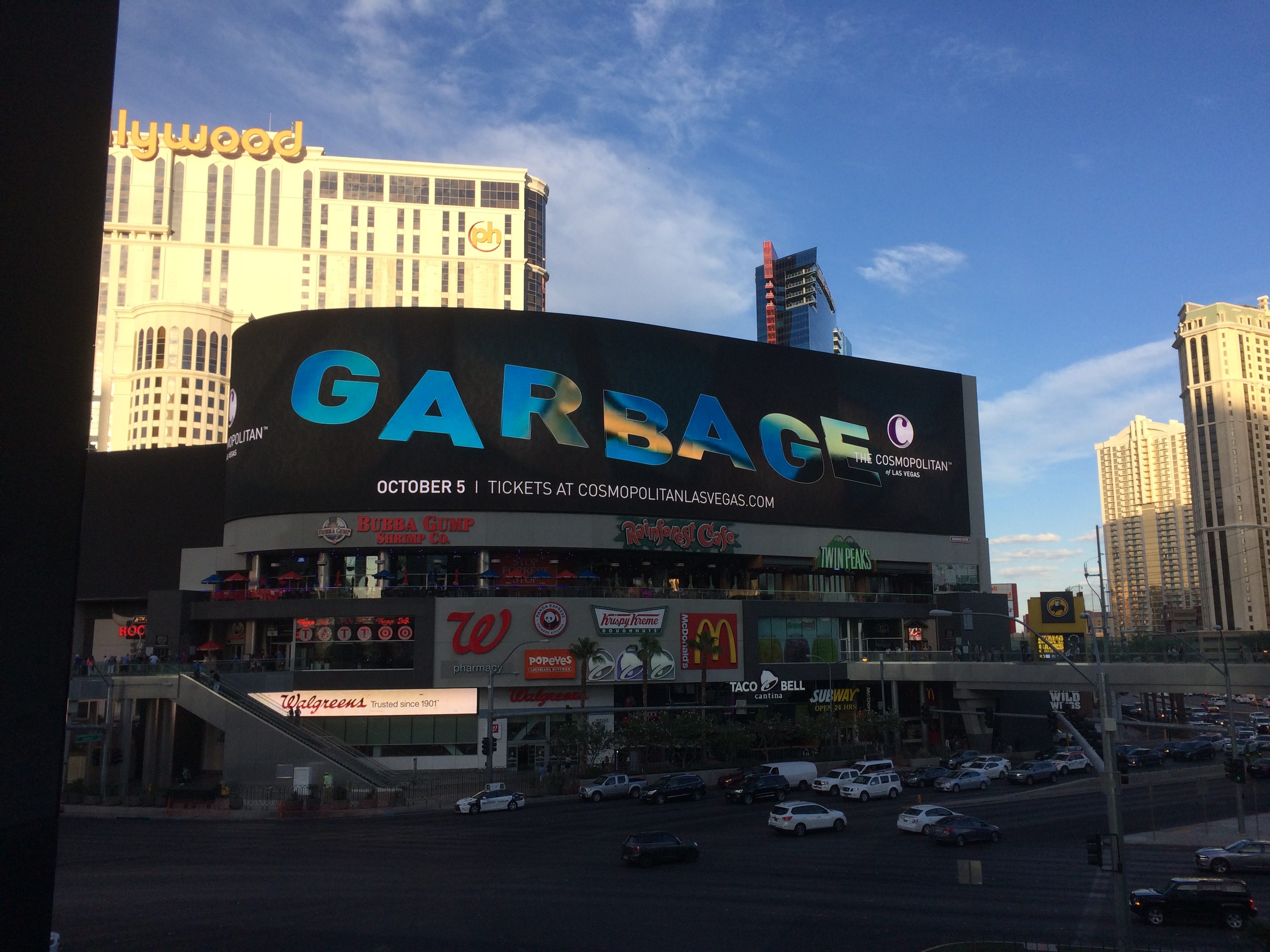 Location, Location, Location are the three words used in real estate. Cosmopolitan fit the bill. There was plenty of high end dining within the resort itself, and simply crossing the strip brings you to the Harmon Corner Retail Center. This place has a McDonald's for the cheap early morning breakfast. I wanted to eat at EggSlut in Cosmopolitan for breakfast, but there were lines at times where I would have to wait at least an hour, just to order. The second morning I was in Las Vegas, I went to Planet Hollywood and ate at Earl Of Sandwich. The cost for a bacon and egg sandwich with coffee was only a dollar more than McDonald's.
When I am in Las Vegas, I usually skip lunch, maybe having a small snack or something to tied me over to dinner, which is when I really enjoy eating. With great restaurants to choose from, I had dinner every night in my resort.
The first night, I ate Wicked Spoon, which is the Cosmopolitan's buffet. The dinner buffet was $$, but the selection and level of food was worth the price. By level of food, I do not mean standard buffet fare, there was high end food varieties, and exotic dishes to cater to various tastes. I tried beef bone marrow for the first time, and it was interesting. I managed to eat three plates of food before I could eat no more, and I felt that I did get my money's worth.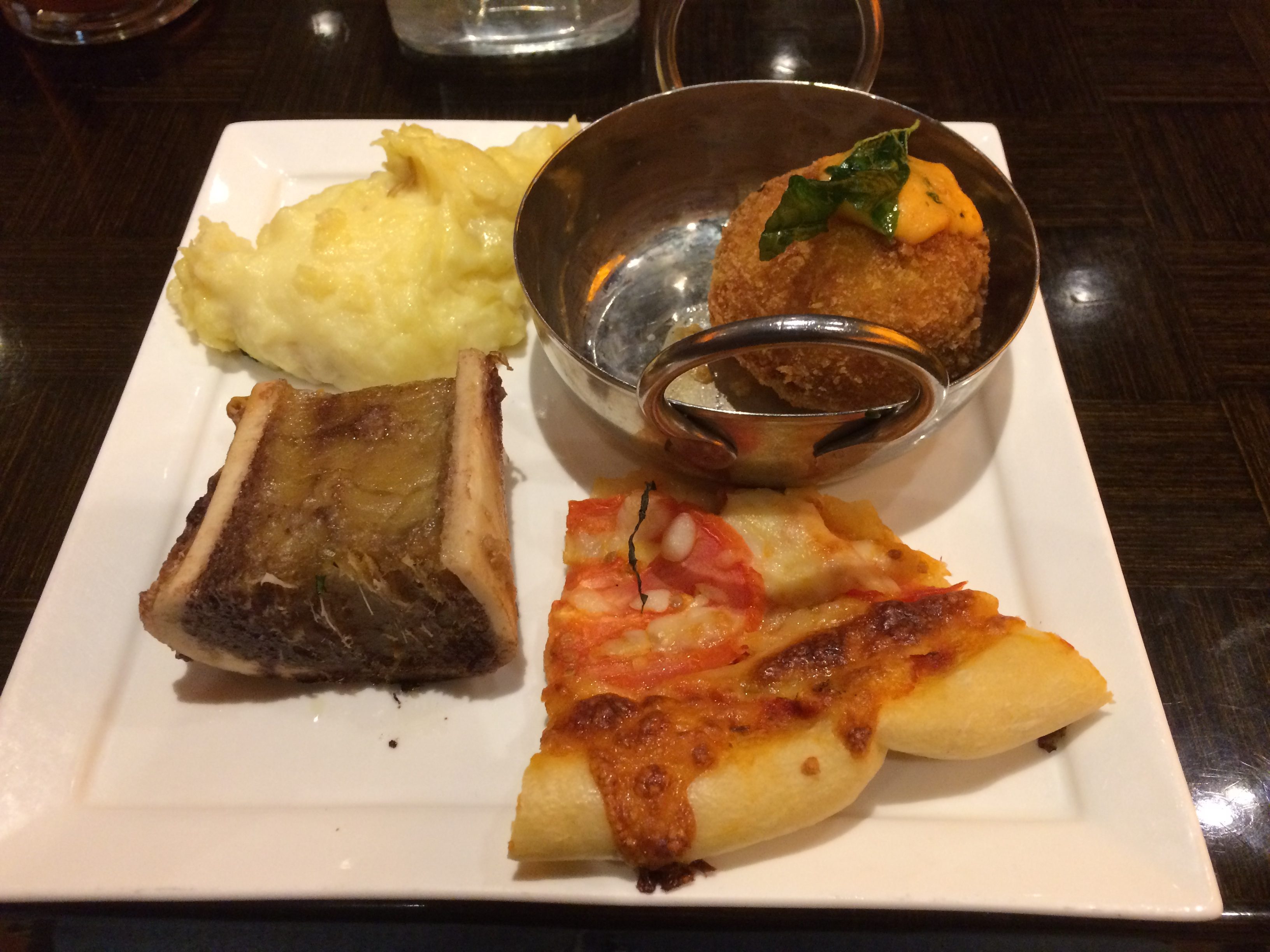 After wandering and exploring the south side of the strip, and having a pepperoni pretzel at New York-New York, I ate at China Poblano. It is a Mexican and Chinese fusion, that works. I was seated at the bar, and ordered a drink, Salt Air Margarita. This is a standard margarita, except the lime and salt is in a foam which floats on top of the margarita, and diffuses through the drink when you sip. Wonderful concept, and the bartender explained that it was specially developed for the restaurant. I perused the menu, and could not decide on what to order, because it all sounded so delicious. So, I ordered the Tasting Menu. It started with Chips & Salsa, which is traditional for Mexican restaurants. Then came Tuna Ceviche Spoon, Traditional Siu Mai, Watermelon-Radish Salad, Carnitas Taco, Shrimp Mojo, Twenty Vegetable Fried Rice, and for desert, Mango Sticky Rice. F@ck That's Delicious.
My final day, I was intent on heading to the north end of the strip, catching the Monorail at the Bally's station. I grabbed breakfast at Earl of Sandwich, then rode the monorail north. Ultimately upon my return trip, it was near lunch time. After some gambling, I decided I was going to eat at In-N-Out Burger. In-N-Out Burger had a location off strip, and I had heard good things about the food, but I was not going to rent a car or take a cab or even summon Uber just to eat a burger. Years ago I ate at the Fat Burger location on the strip, and I was a bit underwhelmed, so I was not going to make an extraneous effort for possible mediocre experience. Luckily In-N-Out had opened a location in Linq Promenade. In my humble opinion, I do not see the big deal. The Double Double was good, but if west coast people think it is a great burger, there are definitely some differences in tastes between midwesterners and coasters. I have had plenty of great burgers, and if you want a midwestern burger chain that outdoes In-N-Out, Culver's.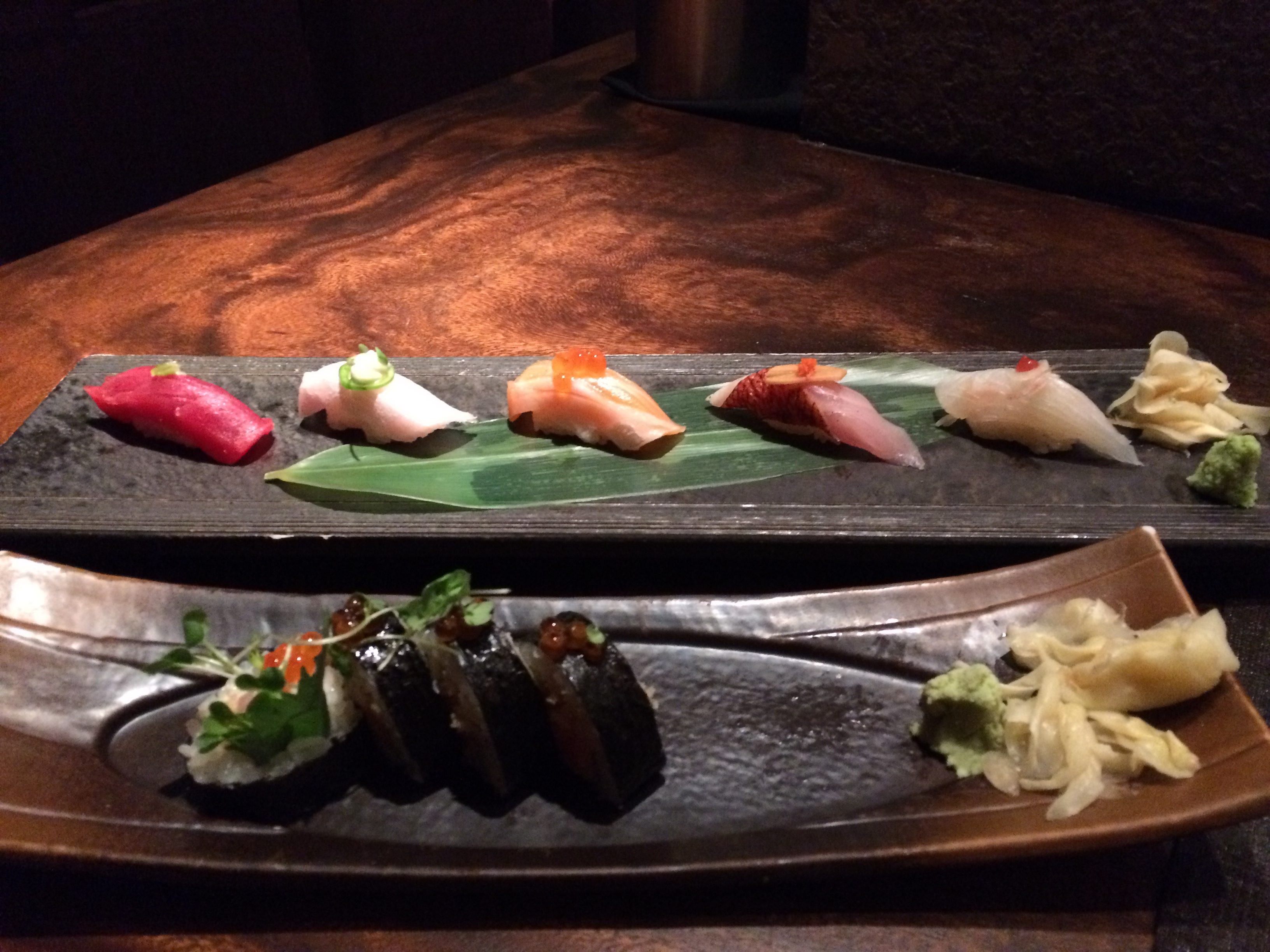 For dinner, I decided to eat at Zuma. It has been a long time since I have had really good sushi. Zuma also had a selection of Japanese whiskies, which I have been wanting to try for a very long time. I have been tempted to order it online, but the thought of ordering something I did not like prevented me. Try before you buy has been my choice when it comes to alcohol. The Suntory Hibiki Whiskey I had reminded me of my favorite single malt Scotch, the Macallan. I ordered a Zuma Chirashi Roll and the Small Chef's Choice, which allowed the chef to choose five different sushi types. I then ordered Sea Urchin and Sweet Egg ala carte. It was all well presented a delicious.
My final breakfast in Las Vegas was at Popeye's in McCarran Airport. The chicken breakfast sandwich consisted of a chicken tender cut in half and placed on a biscuit. Kind of a let down. Overall the trip was fabulous, and the restaurants I ate at made it great. Unfortunately the casinos were very tight no matter where I went, and how I changed my gambling methods.
Thanks for stopping by.
---