Buttons
May 24th, 2017 by Proprietor
Stepping out of my normal Brady Bunch posting, that will return Sunday with a new Kid Spider Adventure comic, to post something about comic books. I have been a nearly life long fan of comic books. I have read good stories, bad stories, and all kinds of stories in between. Some have been insightful while others have been down right painful.
Currently DC, is going through a bit of a crisis. DC had gone through all kinds of crises, but the current rebirth of their comic line was intended to take all the previous continuity and graft it back into place after DC decided to go with a continuity light New 52. For decades DC has had problems with characters having been around for seven to eight decades, and various writers tinkering with the history of the characters, then there were all the alternate earths and futures and dimensions and what have you. Many writers felt constrained. My opinion is if they were really good writers they would figure things out.
When DC decided to go with the New 52, strip out the whole past history, and condense some of the history of characters to make those characters more accessible, and user friendly, something was lost. A good Batman story is a good Batman story. Just the basics of the character lead to good story telling, regardless of the previous histories or cannons.
After nearly four years of New 52, DC announced another relaunch, keep in mind, it was not build as a relaunch or reboot or retcon, but Rebirth was exactly what it was not billed as, a reboot. With complex histories, and lost possibilities due to stripping down characters, DC decided to bring back the lost, but in a way that would tie it to the current version of the DC universe.
Lets face it, current models for selling comics are wring as much money out of people as we can get, though that seems to happen all the time. I did not read the previous story lines and Rebirth specials. From what I gather, DC is now trying to bring in and tie the Watchmen Universe to the DC Universe. Dr. Manhattan has something to do with the current situation.
Recently DC put out a four part crossover between Batman and Flash titled "The Button". It revolves around a smiley face button that was worn by the Comedian in Watchmen, and has sort of become a de facto symbol for the Watchmen. The Button showed up in the Batcave after Wally West returned or something to the effect. With Flash being able to travel through time and alternate dimensions, Flash will always be a key to the DC universe.
Before the New 52, there was a story line "Flashpoint" in which Flash travels back in time to save his mother's life, and in doing so created alternate realities and the New 52. Not having read the extensive storyline, but due to "The Button" story line I am tempted to pick up the trade paperbacks, it seems that Flash caused some event that allowed Dr. Manhattan to perceive the multiverse, and now create a form of time collapse that would graft everything onto the DC universe.
"The Button" was a decent story, but it could have been done in two parts or even one comic, but as stated, the current practice in comics is to wring money out of people. That is write an extended story that can later be repackaged into trade format.
Overall "The Button" is a prelude to a larger fall event coming to DC in November "Doomsday Clock", written by Geoff Johns. All the earmarks point to the Watchmen having a big part within the story, and throughout "The Button" story was hints that the Legion of Superheroes will be returning. The Legion has extensive time travel experience, and due to the constant rebooting and retconning DC has done over the years, the Legion's future and history has been mushed up. Several years ago, Johns wrote one of the best Legion stories I have read. Johns has an affinity for revamping characters that are thematically dead or unwieldy. Look at what he did for Aquaman.
I will more than likely pick up "Doomsday Clock" when it comes out. Though I will have to see how DC handles the marketing and tie ins. If it becomes a you can buy the main mini series, but in order to get the full scope of things, you have to by all the tie ins, then I am out.
Thanks for stopping by.
---
Attic Room Attica
May 21st, 2017 by Proprietor
The Brady Bunch series had plenty of inconsistencies within the show, and the short lived spin-offs. Basic stuff like, why did Mr. Brady, an architect, design a three bedroom house for six kids, then stuff three kids in each room? Well, even back in the 70s Los Angeles, prices for land and housing was becoming outrageous. The original house used for the establishing shots of the Brady residence was sold for over a million, though it is quite nice. Also, when people are writing for a half hour comedy show that might not be picked up again for another season, consistency is not on the forefront of everyone's mind.
In season two, Greg wanted to be a man, in his own room. He was now in high school after all, and a man has to have his own space. Mrs. Brady suggested remodel the attic, but Mr. Brady sarcastically remarked that it would be fine if Greg were four feet tall, which implied the attic was standard height for most houses. Greg asked about having the den. After some goading Mr. Brady caved in, and let Greg take over his den/office. In the end, Greg returned to his room with his two brothers.
Two seasons later, the Bradys were cleaning out the attic to get rid of stuff for charity, and suddenly the attic was the size of a nice spare bedroom. Naturally the conflict was established. Marcia mentioned to her mother how it would be awesome to have a room of her own, Greg mentioned to his dad the same thing. Mr. Brady promised the attic to Greg. Mrs. Brady promised the attic to Marcia. So the children begin moving stuff up to the attic, and a fight ensues. Protests and sit ins, then mom & dad settle it with the logic and coolness the Brady parents are known for.
Greg is the oldest, then he gets the room. When Greg leaves for college Marcia gets the room, when she goes away, Peter, Jan, Bobby, Cindy, all can live in the attic room. But the two youngest do not really need to move into the attic. Once Peter moves to the attic, Bobby has his own room, and once Jan moves to the attic, Cindy has her own room, so Bobby and Cindy have no real need for the attic room. Unless Oliver ended up being a perpetual long term guest, then Bobby would want the room. Fortunately the series was cancelled, so the questions never had to be answered.
Greg caves into Marcia's tears, and she has the room. Bobby and Peter begin to wage war against Marcia playing dirty tricks to point out how hard it is to live in the attic. Marcia accuses Greg of putting them up to the tricks, but Bobby and Peter confess. Marcia realizes how she was being selfish and when Greg goes to college the room is hers. Everyone moves and everyone is happy. The attic becomes Greg's space throughout the rest of the show.
Once the show is cancelled, the attic room goes into oblivion.
The short lived spinoffs, Brady Brides, and Bradys never mention the attic room. In the movie "A Very Brady Christmas" the children, with their wives and children, and Alice return to the Brady house. Mike and Carol have to find room for everyone. The girls room will hold Marcia, her husband, and daughter. For some reason they need a cot. What happened to Cindy's old bed? Jan and her husband would take the boy's old room, which is now an office. Cindy & Peter's finance sleep in the den, Peter and Bobby sleep in the living room, and Greg with his son, and Marcia's son sleep in the family room/exercise room. What about the attic room? When Mike remodeled the house, did he remove the attic?
Due to the Brady Bunch, every boy who shared a room with a sibling wanted their own attic room.
Thanks for stopping by.
---
Goodbye Chris Cornell
May 18th, 2017 by Proprietor
I was listening to the radio on my way to work, like I always do in the morning, and they announced Chris Cornell had passed at the age of 52. This news was sad, because I remember the Grunge Movement in rock music. It brought about a different sound and feel. Soundgarden was one of the best bands to come out of that era in my opinion. Chris Cornell being their lead singer became one of my favorite singers. He had an incredible voice. When he went to Audioslave, I gave the band a listen because of him. Turns out they were a great band. He will be missed.
---
Go Ask Alice
May 17th, 2017 by Proprietor
Ann B. Davis played Alice (nee Nelson) Franklin, in all the Brady Bunch episodes and spinoffs. A house keeper to a middle class family, probably hired by Mike after his first wife died to help raise the boys. Alice stayed on to become a solid foundation and confident to the children. Though the first season flirted with getting rid of her, and several times, Alice left, only to return and realize how loved she was. Mike could have fired her, saved some money, and gotten a larger house. Though I am guessing minimum wage with the whole room & bored included concept might have made a house keeper cheap.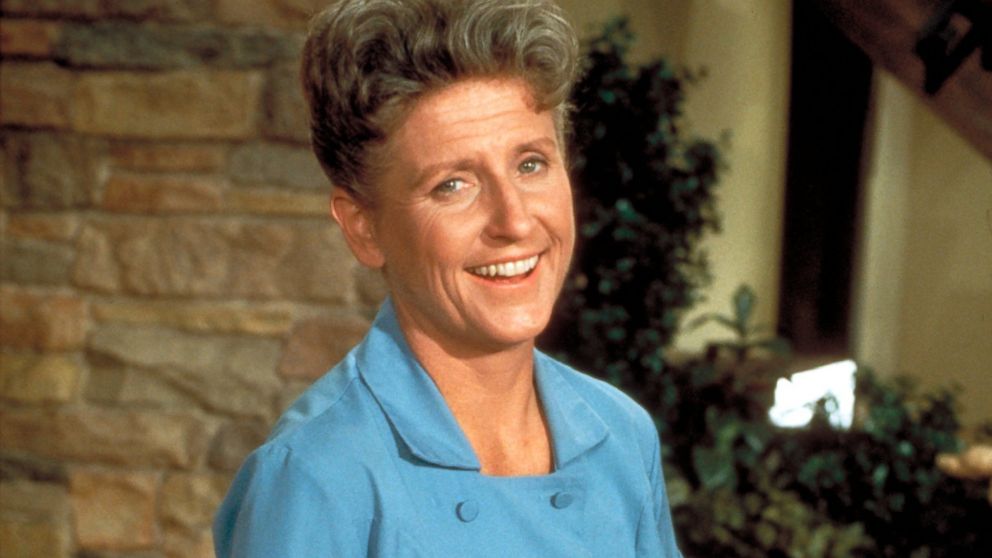 Alice was a middle girl, and so she had great sympathy for Jan. The locket episode revealed that much. Alice was the baker of many cakes, pies, and other foods for the family. You wonder why she was on a diet. Alice was a master of sight gags, prop comedy, euphemisms, and bad puns.
Alice had a look alike cousin, Emma, whom served in the army, who took over for a week while Alice went on vacation. Was it paid vacation? Why did Alice need a vacation from the Bradys? Alice always went where the Brady's went, to the Grand Canyon, Hawaii, King's Island, and it seemed like she was not really working, but on vacation. Trick camera work and editing put Ann B. Davis, who played both rolls together with her cousin.
It would not be the last time the producers toyed with creating doppelgangers, clones or other such things of characters. The weird science would be used in the final season.
When it came to advice, sometimes Alice was spot on with her way of asking a child a question about a problem, and then pointing out how the child knew what the solution was, but was just unwilling to implement it. Sometimes Alice's solutions went haywire. Do to being loyal and honest, Alice was sometimes put in a moral quandary when it came to the kids. Not wanting to lie to cover up their misdeeds, but also not wanting to get the children in trouble, Alice would end up quitting her job once.
Then there was Sam the Butcher. The meat euphemisms that were used to imply sex or sexual frustration were hilarious, it might have been missed by children, but not adults. Alice was such a dirty girl. In the movies, the euphemisms were not as subtle, but the movies were self parody of the show. The long term romance finally resulted in marriage, which was revealed in the Brady Brides to have happened after the Brady Bunch ended, but before the Brady Girls go married. Alice left the household, but not the family. Always part of the family. Returning during the Christmas movie, because Sam cheated on her. The euphemisms in the note he left her were grand. "Spicing a rump roast."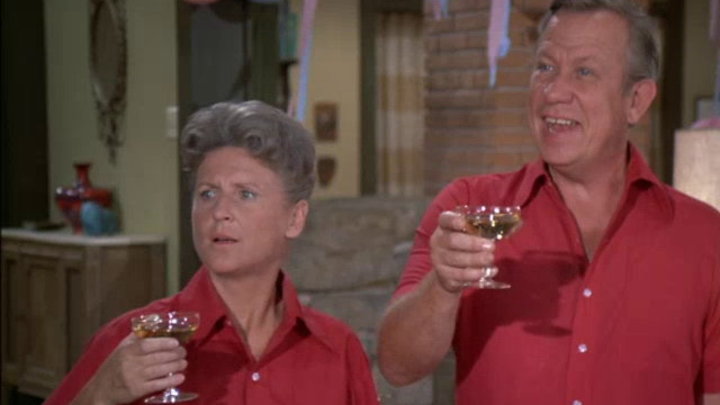 Alice ended up taking the lout back. Though Sam was never seen again. In the spinoff show Bradys, Alice was always calling same to tell him she was at the Brady residence. When Alice was in the house she and Sam shared, only Alice was seen. One thing for certain, the kids could go ask Alice if they had a problem.
Thanks for stopping by.
---
Jan Jan Jan
May 14th, 2017 by Proprietor
Watching a television series in it's entirety, especially one that has nostalgic significants, and turns out is not a bad series, gives you some interesting insight into dynamics when it comes to the characters or inside jokes, like Cake.
I admit, I was a Jan Brady fan as a child. No one would argue that Marsha was not strikingly pretty, and because of her blue eyes, blond hair, and earlier development, Marsha drew attention immediately. This meant, Jan was going to be overlooked and dwell in the shadows of her older sister. Plenty of episodes revolved around Jan's neurosis. The concept was taken to a total farcical parody in the Brady Bunch movies, where Jan contemplated evil things, and talked to herself out loud. There was cake in the movies as well.
But, my fandom of Jan was somewhat sympathetic, as a young boy, being the second child, I am thankful I was not a middle child, I had great empathy. I was always dwelling in the shadows of an older sibling. How can you not blame Jan for being so screwed up? Either Jan was overlooked because of Marsha or Cindy was stealing the light for being just too damn cute. Peter seemed to not have any sympathy, because he got along well with both of his brothers, boys are different. No matter how hard Jan worked, no matter what she did, she failed. Marsha did it better or Cindy could do it better. The only person who had any sympathy was Alice, because Alice revealed she was a middle sister as well.
Jan was pretty. In many ways, just as pretty, if not more pretty than Marsha. No guy in school would look down on you if Jan was your girlfriend. If Jan was your girlfriend, you would be the guy with the babe. Yet, for some reason Jan did not have the guys hanging all over her. Even when Mrs. Brady realized Jan needed to dress like a girl rather than a boy because Clark Tyson filled her in on why Jan could not get a guy, Jan seemed to have boyfriend issues. She had to make up boyfriends, while Marsha dated bug collecting geeks, like Harvey Klinger. This gave geeks some hope, especially bug collectors. Mike even offered Harvey some bug cake or something.
When Jan reached a certain age, she developed well. Seems lecherous now, but at the time, I was ten or eleven and the Brady Bunch was in syndication airing on local channels. When the Hawaiian episodes came on, suddenly, Jan was not the flat chested younger sister to Marsha.
Apparently Maureen McCormick was actually self conscious during the whole Hawaiian beach scenes if she had to stand next to Eve Plumb. Eve actually made Maureen feel inferior for many reasons. Yet, Jan had self confidence issues. In the Most Popular Girl episode, Jan lamented that her opponent had the three B's, Brains, Blond, and Built. In my mind I was wondering, "How well built was the other girl?" Yet, they never showed the competition.
One thing is for certain, Jan did not turn out to look like her great aunt, Jenny, played by Imogene Coca.
In season 5 Jan had bested Marcia when it came to work. Marcia lost her job in an Ice Cream Parlor because the owner decided Jan was a better worker. This became a clear indicator of the future, though Marcia was not happy, she soon decided to give up her working ways for a life of luxury and being supported by men.
Several years after the Brady Bunch ended, Eve Plumb appeared in a Wonder Woman episode. She was now a woman, and wow. She could give Linda Carter competition in the looks and build departments. Linda Carter was taller though, and not in any danger of losing her amazon heroine job. Eve played the daughter of a general or something whom became a member of a cult, struck me as very Jan Brady-ish. Would not a neurotic Jan Brady seeking acceptance join a cult? Wonder Woman naturally went to investigate, then rescue the former Jan Brady.
There was a Brady Bunch Variety Hour or something, where a different woman stood in for Jan. Obviously no substitute for Eve. It was like the producers just grabbed some blond chick around the same age, and expected people to just overlook things.
Then came the Brady Brides, a made for TV movie. Eve returned to play her former second fiddle role to Maureen, but this time, the tables were turned. Jan was getting married, and Marsha did not want to be outdone, so she rushed into marriage with a man she barely knew. Then it seemed Jan had more of a solid life in the short-lived spin-offs of the Brady Bunch, the Brady Brides, and even the Bradys. Though Jan could not get pregnant, and that was a main point of competition between the now Brady women, Jan had a husband with a steady job, worked successfully as a realtor, and did not have an alcohol problem. Marcia married a perpetually unemployed husband, and ended up a drunk who did not have a job.
Today, though Eve Plumb is not in the spotlight as much, she is probably the most successful of the Brady girls.
Jan Jan Jan.
Thanks for stopping by.
---