Ten More Albums You Need To Own
February 21st, 2018 by Proprietor
Or at least give a listen to.
It has been a while since my last post in regards to music. When it comes to music, my tastes vary to a degree where even bad music is good. The albums I am posting are ones I think any real audiophile should have. Just because the albums are consistently good. Some of the albums are of bands I had listed in a previous post. All the albums are good in my opinion, I listed them in no real order, the numbering is for convenience. Enjoy the music.
1. Rush – 2112:This is the album that introduced me to Rush, and made me a lifelong fan. The story behind the reason is close to my heart. The A side is an album long story loaded with all kinds of good music and political commentary. The B side contains several songs that should get broader airplay, but do not. This album is a hidden gem. Anyone who likes good music should overcome their prejudices and listen to this album.
2. Sound Garden – Badmotorfinger: Chris Cornell is one of my favorite singers. This album brought the world grunge rock in a very gritty form. Considered to be one of the seminole grunge rock albums, it contains some of the best work of any new band that was part of the 1990's grunge movement.
3. Social Distortion – Somewhere Between Heaven And Hell: 1980s Punk at it's best. Social Distortion was one of the key bands of the punk era. Like all punk bands, they were misunderstood, and pre-judged. The album was one of the top selling albums for Social Distortion, and had broad popular acclaim. There are great albums that Social Distortion put out, but there is a reason why this album is commercially successful.
4. Asia – Asia: Considered a power band, made up of members from other bands. Asia was one of the best bands of the 1980s progressive rock movements. Featured in the movie "The 40 Year Old Virgin". This album is consistent and good from start to finish.
5. Toto – IV: Another 1980's super band. The music was consistent. Very mellow and worth listening to from start to finish. The most popular song "Africa" was beautiful, and is still revered, as well as parodied by many people who listen to the great album.
6. Audioslave – Out Of Exile: The second album of the power group composed of members from Rage Against the Machine and Chris Cornell, from Soundgarden. This album overcomes the sophomore slump associated with many bands. It is a superior album to the first album.
7. Beastie Boys – License To Ill: Compared to Paul's Boutique, it is not as heavily sampled or superior in construction, the album was more commercially successful. "No Sleep Til Brookly" and "(You Gotta) Fight for Your Right (To Party!)" were the most commercially successful songs for the band for a reason.
8. Boston – Don't Look Back: Though the second album to the largely commercially successful, and incredible, first album, the second album was just as good. Not as well known, because albums from Boston came out inconsistently, this album is still a follow up album anyone who appreciates good music should own.
9. Heavy Metal – Heavy Metal Soundtrack: Loaded with great music, it is an under appreciated soundtrack. Sammy Hagar did the penultimate hard rock theme to the album. It is loaded with great music, and the movie is a good watch. Brilliantly and cutting edge animation for the time.
10. Bruce Hornsby And The Range – The Way It Is: Admittedly one of my favorite albums. This is a very poignant and powerful album done in a very country and mellow way. It is consistent in lyrics, and theme, making it an under rated album, and one people need to buy.
All of this is subject to opinion, and I have been accused of liking not good music, but then again, I have been told, I sure as hell know my stuff.
Thanks for stopping by.
---
Unscripted Television
February 18th, 2018 by Proprietor
It used to be called reality television, but once people caught on, and realized the shows did not reflect real life, they were just overly exaggerated game shows or peeks into people's lives, television people changed the label.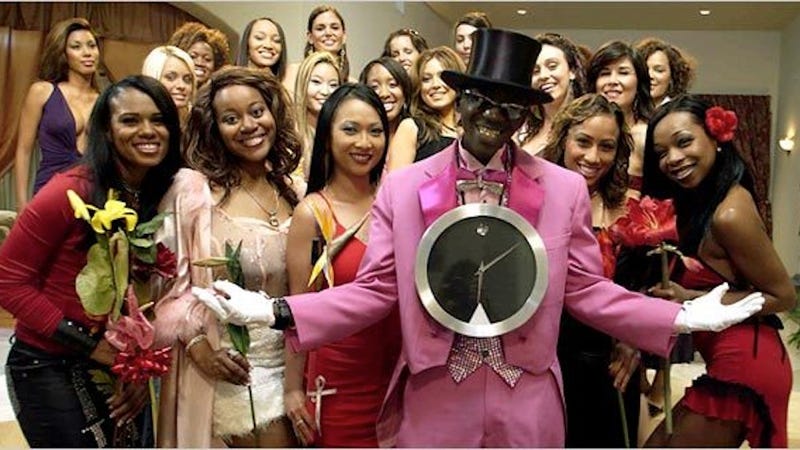 I admit, I was a VH1 addict when Flavor of Love came out. The reality shows produced were mind numbing and entertaining. If you did not take the show seriously, you were not going to be upset about the show. Did anyone really think Flavor Flav was going to find true love by picking a winner in a glorified gameshow? Fav is a hype man, hence self promotion was the goal. Like any dating show, it is a gamble, but publicity does not hurt. Then came the spinoff shows, I Love New York, I Love Money… I loved VH1.
When you look at the television shows though, you can tell that there is an attempt to structure a story via editing. You have the good guys and bad guys. The women who seem to get the most screen time are also the most likely to be a finalist or the final pick. It also becomes more apparent whom might be the final two as the number of women dwindles. Some bloggers I have read claimed you could tell who actually won based on the previews for the next shows. Guess people spend a lot of time analyzing things that probably do not matter.
The concept of the unscripted television show is people are saying what is on their mind at the time, and their reactions are not rehearsed or directed. Though a lot of it is highly edited to make a person look like a total jerk.
Right now, the only unscripted television show I have bother watching is Hell's Kitchen. A cooking competition seems interesting. Otherwise, I have been at times reviewing old VH1 of love shows. Some of them are now unedited on HULU. By unedited the vulgar words are not beeped out and if there is any nudity, you see it, no black bars, and some of the women showed more than they probably wanted to for the camera.
All three seasons of Rock of Love are available. Watching the unedited versions of the three seasons made me realize how much more trashy the shows became. The women on Season 1 were not prim and proper women, but compared to the women on Season 3, it became apparent that casting for the shows was attempting to not find the finest women. Granted, the women were good looking, but well educated and having good manners was not a priority. As long as the women did not have a criminal background.
Now if HULU could get the rights to the unedited versions of I Love Money Seasons 1 & 2, I would add them to my watch list.
Thanks for stopping by.
---
Killer Boss
February 14th, 2018 by Proprietor
Mr. Ed Phillips, played by Jack Collins, who was introduced in the "Call Me Irresponsible" episode 6 of season 2, was technically Mike Brady's direct boss. But the president of the architecture firm was Mr. Harry Matthews, played by the great Jim Backus, who famously played Thurston Howell III in Gilligan's Island. It would be Jim's second guest appearance on the Brady Bunch. He played the old prospector in Season 3, Episodes 1 and 2 "Ghost Town USA" and "Grand Canyon or Bust".
Season 5, Episode 21 "The Hustler" was one of the final episodes of the Brady Bunch. Robert Reed was growing tired of playing a character he felt was unrealistic, and in a sitcom he felt was holding his career back. Throughout the entire run of the show, Robert was a bit of a jackass, but he did love the children. As it was, the Brady Bunch was running out of steam anyway. The children were getting older, Greg was planning on going to college and moving out of the attic. Marsha was probably following in his footsteps. Producers had tried several ways to revive the show. Introducing the Kelly Family as an attempt to back end a spin off. Then bringing in Cousin Oliver to keep the cuteness factor going. But, none of it made any sense, and ratings were not as strong, if the network renewed for another season, Mike Brady was going to be replaced. Though more sinister thoughts had crept in, and conspiracy theories evolved.
A pool table had been delivered to the Brady House, with no note as to whom it was from. Once the pool table was uncrated and assembled in the car port, Bobby became a hustler. With Cousin Oliver as his sidekick, Bobby gained sweet revenge on his brothers. Mike and Carol were befuddled as to who would send such a nice gift. When Mike returned to work the next Monday, Mr. Matthews asked Mike if he liked the gift he sent. Turns out the Mr. Matthews was so pleased with work Mike did for a major client, he sent the pool table as a reward. A pool table seems like a real downer compared to Hawaii and King's Island. Though Mike was grateful for the gift, and happy to solve the mystery. To show his gratitude, Mike invited Mr. Matthews and his wife over for a cookout and to play a few games on the table. This is where things go sideways.
Having covered all the events in a previous post, we get to the conspiracy theory. Mr. Matthews was obviously a generous man to his employees, especially loyal ones, except it was hinted he had a petty and dark side. Though it seemed like losing a major client like Beebe Gallini was no big deal, losing at a game of pool was a big deal.
Two other men who worked at the firm and their wives had been invited. The men went to the car port to play pool, and look at the Driscoll's Toy Store box, while the women chatted, and Alice made the food, maybe some cake as well. The men fearing losing their jobs, at the least, lost to their boss, Mr. Matthews. Enter Bobby. Having finished his delinquent homework, because he was too busy being a pool champion in his mind, Bobby asked if he could play. At first Mike balked, either understanding that Mr. Matthews was petty, losing to employees was not acceptable, so losing to a boy would bring far more grievous consequences, or Mike just did not want Bobby to get a swelled head again.
Bobby began beating Mr. Matthews quite easily. After several games, and betting to make it more interesting, Mike's co-worker advised Mike to break Bobby's arm. This is where the conspiracy theories begin to build the case as to why Mike Brady did not appear in the final episode.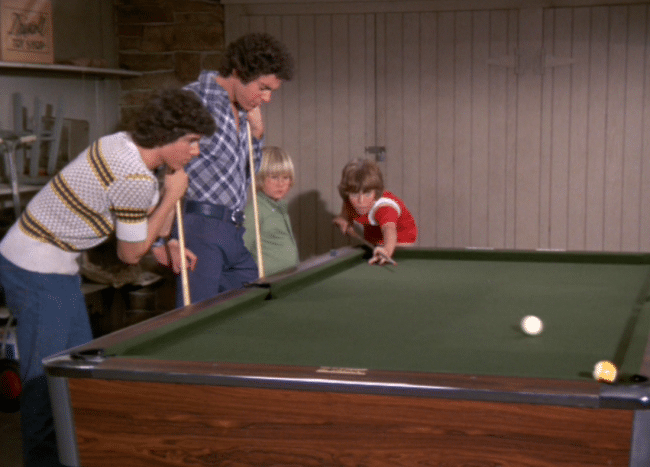 Even though Mr. Matthews appeared fine with losing to Bobby, and having to send him over 100 packs of gum, underneath the cool exterior was seething rage at being so humiliated. To compound the humiliation, Mr. Matthews wife, Frances, played by Dorothy Shay, found out. Mr. Matthews toyed with getting rid of the pool table he had or maybe even having Bobby teach him to be better. In the end, Mike, trying to salve his boss' wounds, suggested donating the pool table in the car port to a charity. All seemed good, except Mrs. Matthews bemoaned to Carol about not being able to have her grand piano back. Things get real dicy in the realm of conspiracy.
Mrs. Matthews angry that she cannot get rid of the pool table and replace it with her beloved piano, more than likely gave Mr. Matthews an earful. Already stinging from being humiliated by Bobby, and his gift being given away, was probably pushed too far. A message had to be sent. Mike was killed, and the Brady family silenced. In the last episode Mike did not appear, and there was no mention of his absence from what was a major event in his oldest son's life, graduating high school. This is conspiracy of course, and people having fun with certain thought processes. Mike would return in the spin offs. Not only was he forgiven, but he would be promoted to senior partner.
The reality of the situation was Robert Reed being a jerk. If the Brady Bunch were renewed for a sixth season, Robert was going to be replaced. In my humble opinion, Mr. Brady should have been sent to somewhere exotic to oversee the construction of a project his firm designed. It would have left open the ability to bring Robert back and explain Mr. Brady's absence, since the firm did have a reputation for sending Mike off to inspect building projects, Hawaii or meet directly with clients, King's Island. Though it would be really snarky to just have Mike disappear completely, like Tiger and Fluffy, leaving his drafting board in the den as a reminder of his existence, like Tiger's dog house in the backyard.
Thanks for stopping by.
---
Beebe Brady Beebe
February 11th, 2018 by Proprietor
In the first season of the Brady Bunch, the focus was building the family. Mike being an architect and the bread winner of the family had to deal with various aspects of the job. Difficult clients being one of those aspects.
It was the 16th episode of the 1st season "Mike's Horror-Scope" that tried to highlight how Mike was willing to make sacrifices to put food on the table. Beebe Gallini, played by the beautiful Abbe Lane, was a cosmetics mogul. Her brand of cosmetics was the highest selling and most popular in the world, making her wealthy. Her wealth also made her a bit of a bully when it came to indulging her own interests. This made her extremely difficult to deal with, but the good natured Mike Brady was not going to let things deter him.
While sitting with Carol eating breakfast, and reading the newspaper, Carol read Mike's horoscope. It stated that a mysterious woman would come into Mike's life and essentially dramatically alter it. Mike laughed it off as silliness, while Carol and Alice teased him. Mike left for work.
When Mike showed up at his office in the unspecified architectural firm, his office had been taken over by a woman dressed in pink. Beebe pink to be specific. Turns out, Mike's boss had recommended Mike to the client, claiming he was the best the firm had. More like, passing off the difficult client to the new guy to see how he handles things. In the final season, when we meet Mike's boss in a sense, the president of the firm, it is hinted he is ruthless. When Bobby was beating him at billiards, one of Mike's co-workers recommended breaking the kid's arm. Implying the boss was a sore loser, and Mike's career, even life might be hanging in the balance. So if Mike screwed up with Beebe, simply being fired might be a blessing in disguise.
Beebe started out with what seemed like an unreasonable demand. Everything in the factory had to be pink. Beebe pink. Well, Mike acquiesced and designed a pink factory. Mike worked long hours in his den, and at work to make sure the factory conformed to all the necessary specs. Then Beebe went insane. Beebe even came to the Brady House to talk to Mike about it. Beebe insulted Carol, calling her a little woman.
Beebe wanted a factory designed like a powder puff. Mike drew up some sketches. Beebe then wanted the factory to look like a compact, with an opening roof. Mike tried to dissuade the woman, saying the engineering alone was insane. But, Beebe was unrelenting. Mike put in even longer hours, taking him away from his new family. Eventually Mike figured out a design that might work for Beebe.
Except, Beebe was not happy with Mike's new design. She came to visit the Brady house for a second time. This time to tell Mike she wanted new designs and even more insane concepts. Mike tried in vain to logic and reason with her. Except, Beebe demanded, instructed Mike to start on new designs immediately. Carol was not happy, finding the woman beautiful, rich, and pretentious, but holding her tongue like a valiant wife. The pernicious Brady kids unintentionally worked their magic. First Peter was trying to fly his toy airplane, and it slammed into Ms. Gallini's hair, making a mess of it. Then Bobby and Cindy came charging down the stairs having a squirt gun fight, hosing Ms. Gallini's face, causing her masquerade to run.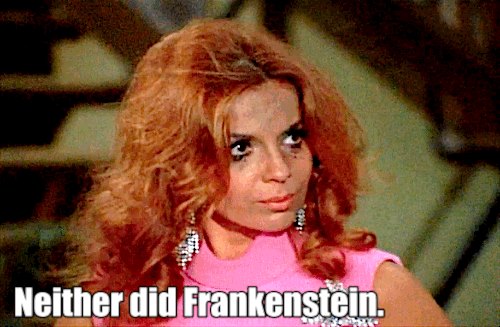 Infuriated with the insult to her person Beebe asked if the little creatures were Mike's. Carol and Mike held their tongues, and even apologized for the event. Instead, Beebe stated that she would have to go with a different architect and stormed off. Mike was more relieved than worried about losing his job. Maybe Mike's boss was more upset about losing at games rather than business, and took losing to Bobby as a personal affront. The conspiracy theory is Mike was rubbed out after that episode. As wacky as it would seem to be, losing a game of pool to a boy is grounds for killing an employee as opposed to losing a major contract. Mike would redeem himself in later episodes, becoming a top architect, with many important clients. Even earning a trip to Hawaii for his family and King's Island.
Thanks for stopping by.
---
Historic Superbowl
February 7th, 2018 by Proprietor
Though I have refrained from watching NFL games this season. I have been a fan for a very long time, and so I have adopted a casual interest. I will still look at the scores, and outcomes, and root for the Packers the most.
It seems now in today's NFL, a marquee QB is important. The only way to have a competitive and dominant team is to have a Tom Brady or Aaron Rodgers type. Then add in a Bill Belachek type coach to have an almost dynasty that lasts as long as you have your QB.
There were always teams in the NFL that were a joke, and always teams that dominated. The Pittsburgh Steelers of the 1970s won four Superbowl titles. During the 1980s it was the San Francisco 49ers. In the 1990s the Dallas Cowboys. 2000s and 2010s, pretty much the Patriots.
These days, it is nearly impossible to repeat Superbowl wins. Except, it seems like there are teams that regularly end up in the Superbowl. There more teams who have lost Superbowls then won. There are a few teams whom have never even been to the Superbowl.
In order to have the most historic of Superbowls, it would have to be between two teams who never had made an appearance. This is why I hope in my lifetime to have a Cleveland Browns/Detroit Lions Superbowl. The Browns being the AFC team who have never been in the Superbowl, I would settle for the Houston Texans, though the Browns have a longer, more storied history in the NFL. The Lions being the NFC team, with a very long history.
Both teams would need to fix a lot before this historic Superbowl happens. Given the nature of the NFL, and the attitude of the team's owners, that would be a lot. Cannot say it would not happen in my lifetime. Given that I am now into my fifth decade of life, and maybe have a good 3 more decades of life left, the clock is ticking.
Thanks for stopping by.
---