Forgiveness Is Delicious
August 21st, 2019 by Proprietor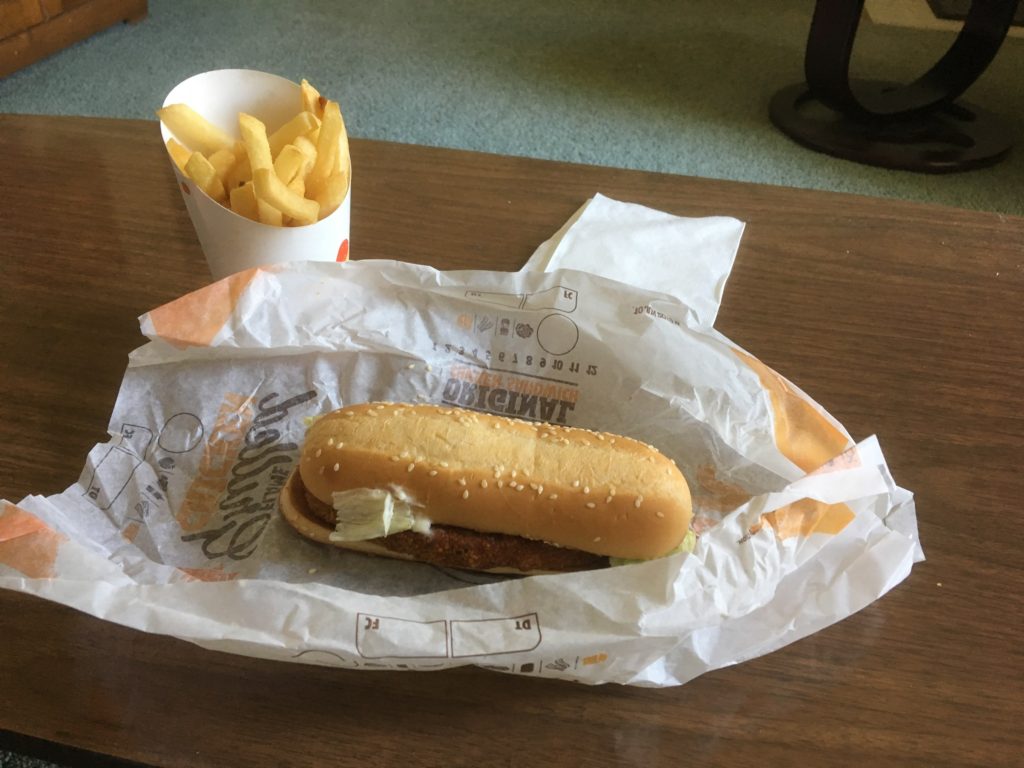 About fifteen years ago, I had enough with a certain fast food chain, Burger King. I decided to never go to a Burger King again. The main reason, every Burger King in the area I lived in seemed to not get my order correct at least fifty percent of the time. This meant I would have to go into the restaurant, complain, and get my order corrected. The manager would give me one of those useless free sandwich cards. You know the one which you have to order a sandwich ala carte, could not combine with any other offer, and essentially meant the manager was giving you the middle finger for complaining. I had so many for Burger King, if I did give the none transferable cards to a homeless shelter, the people would be eating good for a couple of days. Probably not, since there was always an expiration date, usually a month after the complaint. Again, a middle finger to me for complaining.
The straw that really broke my back, and caused me to not go to Burger King for fifteen years was a major mistake in my order. Fifteen years ago or so, I ran an errand on my lunch. In retrospect, I probably could have waited until after work. I only had a half hour for lunch, Burger King was near where I ran my errand. The drive thru was moving quickly, so I decided to go to Burger King. I ordered a "Whopper Meal". When I pulled up to pay, I was still using cash, the clerk ended up doing the dumb fuckiest thing all fast food clerks do. Hand me my bills, and put the change on top. WHY THE FUCK ARE THEY TAUGHT TO DO THIS? Change first. Then bills. When you close your hand with change on top, change slides out. This happened. I lost a few pennies of change, the clerk apologized, and was willing to give me more money. I was in a hurry, did not care about recounting things for a few pennies, and asked for my food. I was handed a soda, at least that was correct. Then I was handed a bag of food. At least it was food. When I managed to punch back in at work, with a few seconds to spare, I went to the break room. My co-workers were eating. I opened up my bag, expecting a wonderful Whopper with fries. Nope. Four hamburgers. WTF? My co-workers tried to make light of the situation, said I should call and complain. What's the point? I get an apology, and a middle finger. I vowed never to go to Burger King. And I kept that vow for over fifteen years.
A few months before this posting, I was going to a local McDonald's. There were other fast food franchises, Taco Bell, KFC, Arby's, nearby as well, but I will focus on Burger King's key rival. The local McDonald's is always busy. Sometimes I get through the drive thru quickly, sometimes not. That was not really a delineating factor, since I always got my correct order. Then it happened. For a common item, I was asked to pull forward and wait. Forgivable if it happened once. Yet, this was becoming more frequent. Sometimes what I ordered was not available, thankfully I was told this when I ordered, and had to order something else. Two weeks before I wrote this, I drove into my local McDonald's and ordered Buttermilk Crispy Chicken Value Meal. I paid at the first window, then pulled up to get my food. "Please pull forward." The clerk stated. I looked. There were two vehicles ahead of me waiting. If I pulled forward, no one else in the drive thru would be able to get their food, because I would be blocking their way. I should have done that.
Instead of being a jerk, I pulled around the other two vehicles. I parked my truck in an area I thought would make it obvious I was waiting for my food. I started the timer on my iPhone. The other vehicles got their food within two or three minutes. Five minutes passed. I saw a few workers exit, walk around to other vehicles, and then come back. WTF? After ten minutes I went into McDonald's and complained. "Sorry." was the only word said. No free middle finger. I left.
A week later, I went to Burger King. I forgave them, because I really wanted to see if Burger King could do better on service. I ordered the chicken sandwich. I pulled up, paid for my food, and got a correct order. It was not as good as McDonald's Chicken Sandwich, but it was correct, and I did not have to wait.
A few days later I went to McDonald's, this time I ordered a Big Mac Value Meal. This is a top selling item. Something I figured that I would not have to wait for. I pulled up to get my food, after paying at the first window, "Please pull forward." WTF? I waited a few minutes, my food was brought to me.
A week before this posting, I went to Burger King for the second time, after a fifteen year hiatus. I ordered a Whopper, with cheese, a Medium Fry, and a bottled water. Was comparable in price to a Big Mac Meal. I pulled up, paid, and was given my order. It was correct. When I came home, I ate my food. It was delicious.
Two things upset me a lot. Poor service in the form of having to wait extraneous amounts of time. Even two extra minutes after paying for my food and having to pull forward is poor service. It is McDonald's, not Culvers (Wisconsinites understand). Not getting my order correct, really upsets me. Burger King(s) in my area, over fifteen years ago, did this regularly, so I decided to not go to Burger King. Obviously the franchise and company did not go out of business. Because McDonald's is making me wait extra time in the drive thru, I am now scaling back my trips.
Taco Bell makes me wait a lot when I go. Yet, I am not asked to pull forward. In fact, Taco Bell has changed their focus on drive thru. I noticed the local restaurant has removed places for people to walk up and order. There are ordering stands, where you can punch in your order, and pay. I noticed that Taco Bell has two food prep lines. The focus, fill the orders quickly. McDonald's does seem to be trying to do this, but not doing so well.
At this point, I will probably go to McDonald's less, if I am continuing to wait, then I may not go at all. Forgiveness of Burger King was a good thing, as well as Delicious.
Thanks for stopping by.
---