Trenches Of Fort Zancudo
November 18th, 2018 by Proprietor
Another GTA 5 video.
Just having fun riding around the fort, and causing some trouble.
---
Long Story Short
November 14th, 2018 by Proprietor
As a creative person, who is working on a long term project, like this web comic, I sometimes get a "buyer's remorse". Because I have worked so long on a project or looked at it for so long, it tends to look old to me. There is a constant urge to change or freshen up or go a different direction.
I usually write a story line months in advance. Due to being only one person, I have to draw the comic, and do all the photoshop work. This takes time, so I only post one comic a week. I try to have several comics done in advance, just in case life happens, and the unexpected causes me to miss time drawing or working on the comic.
When I begin re-reading the story, I see flaws, and I want to correct them or edit out comics because I feel things are going to slowly. I did have plans to progress Kid Spider to Teen Spider. Teen Spider would stick around for a while. Unfortunately, if I did continue on with my plans, doing only one comic a week, it would be at least five years before Teen Spider arrived. I felt like I would be aging Kyle in real time. Because as Kyle ages, his cousin, BagBoy ages, as does Gorilla Girl. This is why I did the whole "Time Jump" story line. Bingo. Kyle rapidly ages.
Yeah, it is a cheesy, easy solution, blame the rapid aging on temporal differences in dimensional travel. Now Teen Spider is available and I can rework some of those story lines. Kyle now being a teenager adds some new dynamics to his relationship to Gorilla Girl.
There are going to be some fun story lines in the future.
Thanks for stopping by.
---
Helicopter Heist, Michael
November 11th, 2018 by Proprietor
Third helicopter heist video.
Thanks for stopping by.
---
That's My Mama
November 7th, 2018 by Proprietor
The television show, That's My Mama, was mentioned in a joke in the Eddie Murphy movie, Coming To America. Randy Watson, the lead singer of the band had starred in an episode as a police man. I thought it was just a fictitious show or one that ran in syndication through New York. This was pre-internet, so no one could just look up an off handed joke to check any depth or voracity it might have.
About seven years later, I was working second shift, got home, and turned on the television to relax. I was flipping channels, and I saw the opening song and credits for "That's My Mama". I thought "This show actually exists?"
That's My Mama was originally broadcast on ABC. It was a somewhat political comedy and ran up against shows like, Good Times, Sanford & Son, etc. It revolved around a bachelor barber, Clifton Curtis, played by Clifton Davis, who lives in Washington D.C. with his mother, Eloise, played by Theresa Merritt. Clifton runs the barber shop his father owned, that was attached to the family's home. Eloise was the good hearted, ever meddling mother, who wanted her bachelor son to settle down, and have grandchildren. The show followed this dynamic. Clifton had a sister who was married to a nerdy accountant. The woman who played the sister changed in the two seasons the show lasted.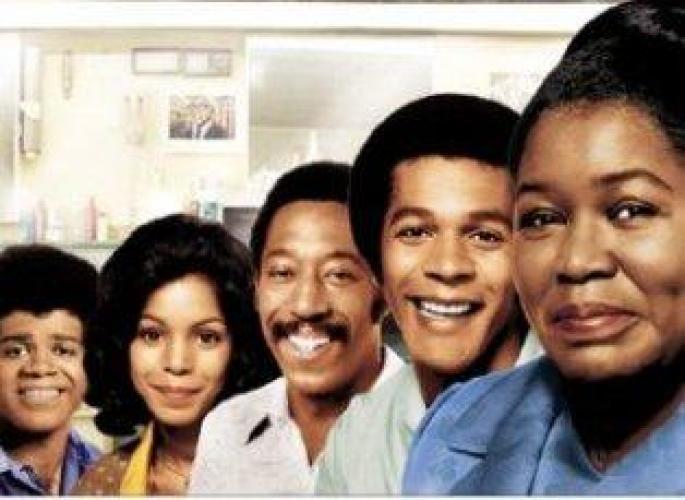 The first season started with two customers who hung around the shop, Wildcat and Josh, played by Jester Hairston and DeForest Coven respectively. Included in the cast was Clifton's army buddy, and mailman, Earl Chambers, who was played at first by Ed Bernard, who was replaced by Teddy Wilson. Teddy played characters in multiple shows, including an appearance in MASH. Rounding out the first season cast was Junior, played by Ted Lange, Isaac the Bartender of Love Boat fame. Unfortunately the show had poor numbers in the ratings, and rather than cancel the show, ABC ordered it retooled.
The second season involved more politics, and now Earl was working with Clifton in the barbershop. Gone were the two hang around customers. Junior remained, and instead of being more of a street wise hustler, he was now in college. The show did improve somewhat, but a mid-twenty year old war veteran living at home with his mom, even if the home was attached to the business did not work out well. Other more topical shows were doing far better in the ratings.
In some ways it is sad, because the show does have it's own uniqueness, and is not bad overall when it comes to humor. That's My Mama now can either be found in DVD format, if you search second hand stores, and it may be available on a streaming service. Last time I saw the show on TV, it was airing on one of the more obscure broadcast television stations.
If you are looking for some antique, and an obscure television comedy to watch, That's My Mama is one I recommend. The humor is strong enough to overcome some of the topical political points, that are now dated.
Thanks for stopping by.
---
GTA 5 – Helicopter Heist, Franklin
November 4th, 2018 by Proprietor
Like last week's YouTube video post. This time Franklin enters Fort Zancudo and steals a helicopter.
Thanks for stopping by.
---