Singer Worker Competitor
July 30th, 2017 by Proprietor
Mike Brady had three boys, the eldest, Greg, entertained dreams of being a rock star. The middle boy, Peter, wanted to at least work for a living, but his enthusiasm was more than his skill, and he sometimes was a bit lazy. The youngest, Bobby, wanted to win at something, he was willing to compete, threw his heart and soul into everything to win, and wound up losing the use of his legs. The four men, lived with a housekeeper, named, Alice. and a mysterious dog named, Tiger.
Then the fellow met a lovely lady. The lady had three girls with hair of gold, a beauty, Marcia, a pretty one, Jan, and a cutie, Cindy. When they wed, Carol and Mike formed a blended family called the Brady Bunch.
Throughout the five years, the show followed the misadventures of the children as they pursued various goals, careers, and navigated the problems of being a child. Mikes boys seemed to get along more, but there was always the brotherly competition.
Greg was the athlete, he could sing, was good looking, and anything he put his mind to, he seemed capable of doing. Though he excelled at football, Greg wanted to be a rockstar, and his career almost came true, Johnny Bravo. But, all you could do was listen to the music, and not here his voice. Greg gave up, went to college, and became a OBGYN, married his nurse, and had a child.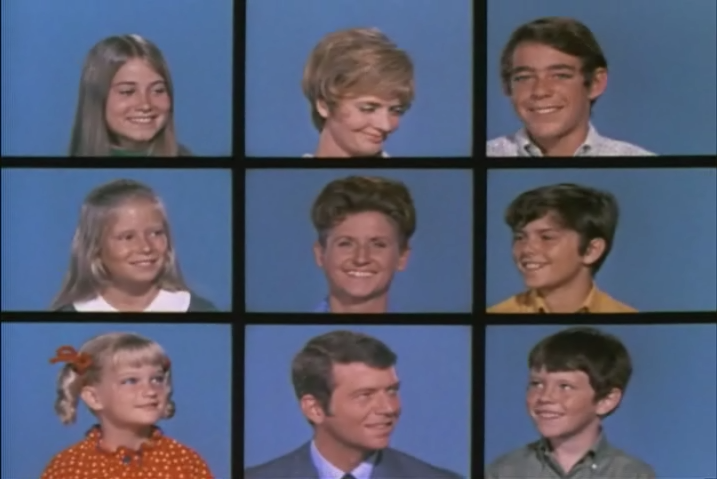 Peter, as hard working as he was, seemed to lack any aptitude. When he got a job he could do, he lazed off. He was always in Greg's shadow, and no one cut him any slack, like they did his kid brother. Peter joined the Air Force, put in his time, and went into some form of stock or equity type firm, where he met a good looking woman, whom became his boss. Peter dumped her, and ended up with an abusive psycho.
Bobby, though never seeming to have the athleticism of his brother Greg, and not really good at singing, had the most heart. Kind to animals, especially his beloved, mysterious dog, Tiger. Turned out he was good at playing billiards. Eventually he went to college, graduated, was going to get a masters, dropped out to become a racer driver, when things looked good, he would finally succeed, and win, BAM! Lost the use of his legs, but married his college sweetheart.
The boys at first allied against the new sisters, and played plenty of practical jokes. Eventually the us against them mentality shifted to more localized sibling rivalry. Peter seemed more allied with Jan, because they both understood what it was like to be a middle child. While Jan dealt with her issues through neurotic episodes, Peter simply wanted to work. Marcia constantly wanted to prove she was as good as Greg, using tears as a weapon, and her looks to lure in Greg's competition. Cindy and Bobby seemed to have the childish combat, though Bobby truly wanted Cindy to be happy, even pretending to be a secret admirer.
It was all good. Simple, but fun.
The singer became a doctor. The worker continued to work. The competitor, lost something, but gained more, and still competed.
The Brady Boys grew up to be the men their father wanted them to be. There could be a relaunch involving all the old Brady children now. Brady Bunch 2.0 in which the grandchildren are more than likely grown up, in high school and college. Who knows?
Thanks for stopping by.
---